Try your first month of Itch Flea for FREE! (just £1.99 P&P)
Itch
Itch Flea Treatment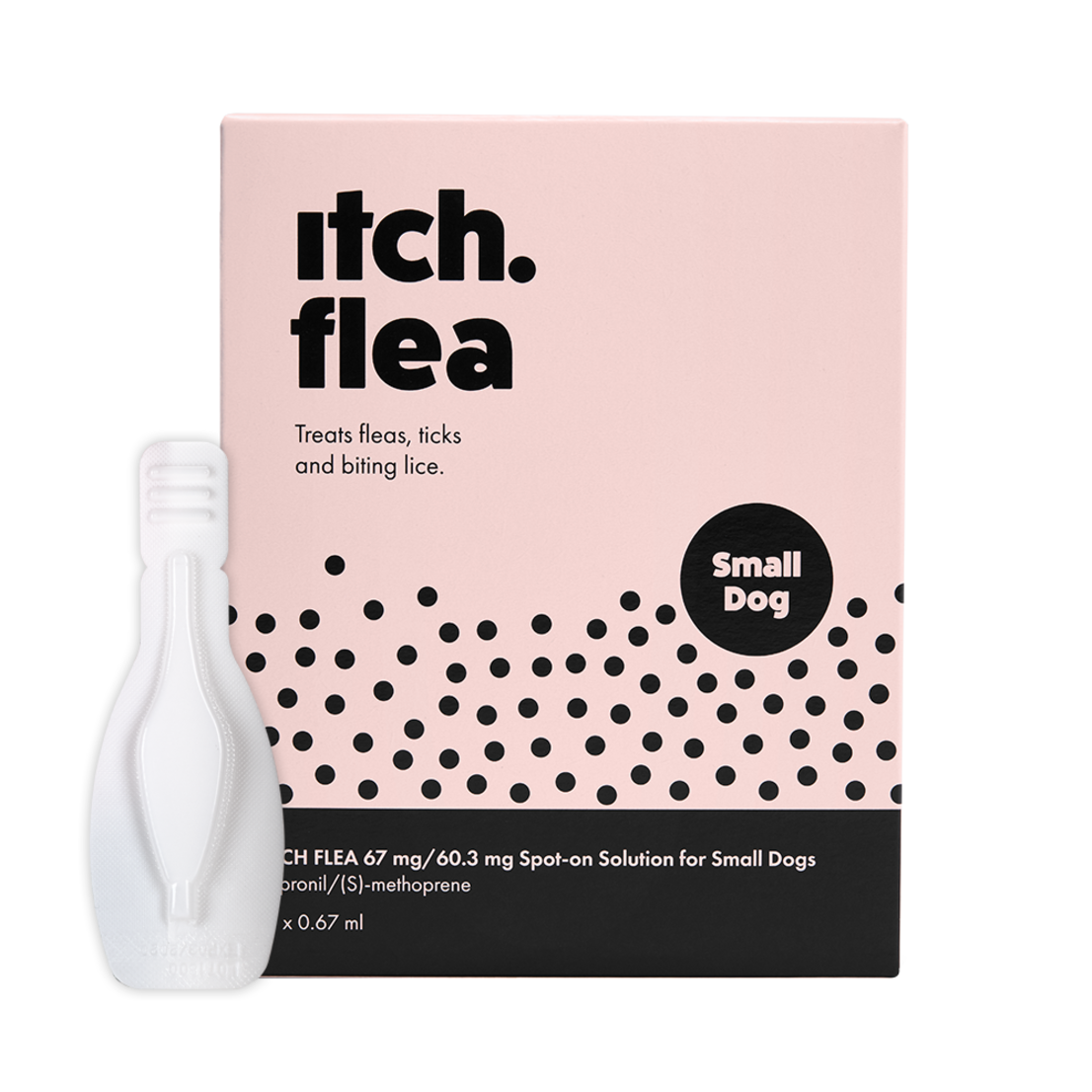 Gold-standard flea treatment, personalised for your cat or dog and delivered to your door for free. Cheaper than the vets, better than the rest. Never forget to protect your pet.
4.3

stars, based on

89

reviews
6.50
6.50
Itch Flea Treatment
Free 1-month trial
| from just £6.50 each month
Did you know only 5% of fleas are seen on your pet – the rest are living in your home! Most flea treatments only kill the fleas, but our double action formula also attacks eggs and larvae too, breaking the flea life cycle and preventing any infestation on your pet and in your home. Because, seriously, who wants that?
Never forget with Itch

Cheaper than the vets

Right dose, right time

Personalised to your pets

Reminder to apply

Delivered to your letterbox
See how Itch compares
Fipronil (S) Methoprene
Frontline Spot On
Fipronil
Fiprotec Combo
Fipronil (S) Methoprene
Active ingredients:
Fipronil (S), Methoprene
See comparison
Active ingredients:
Fipronil
Active ingredients:
Imidacloprid
Active ingredients:
Fipronil
Active ingredients:
Fipronil (S), Methoprene
Easy to apply treatment
Three steps to keep your pets happy and healthy

Step 1 : Open
Hold your pipette upright with foil side toward you and snap applicator tip.

Step 2 : Apply
Part your pet's hair between the shoulder blades. Place the applicator tip just above the skin and squeeze.

Step 3 : Repeat
Repeat monthly. But no need to remember, we'll deliver it when it's due and gently remind you until it's done. Easy.
Vet Approved

"I have seen so many dogs and cats suffering because they weren't treated for fleas and worms in time. Not only that, it can be dangerous for families too. That's why I love the Itch personal protection pack. It makes it so easy to protect your pet and never miss a treatment."
Zoe Costigan, our in-house vet
BVSc BSc(hons) Cert AVP MRCVS

Still unsure?
Watch our treatment videos for dogs and cats
From only £6.50 a month, your first month is free.

Cat
All Weights
£6.50

Small
2-10 Kg
£7.00

Medium
10-20 Kg
£7.50

Large
20-30 Kg
£8.00

Larger
30-40 Kg
£8.00

Extra Large
Over 40 Kg
£8.50
We see a flea, we Whippets backside!
Check out reviews from Itch members below
Ingredients
Fipronil – kills adult fleas , (S)-Methoprene – kills flea eggs and larvae