Try your first month of Itch Flea for FREE! (just £1.99 P&P)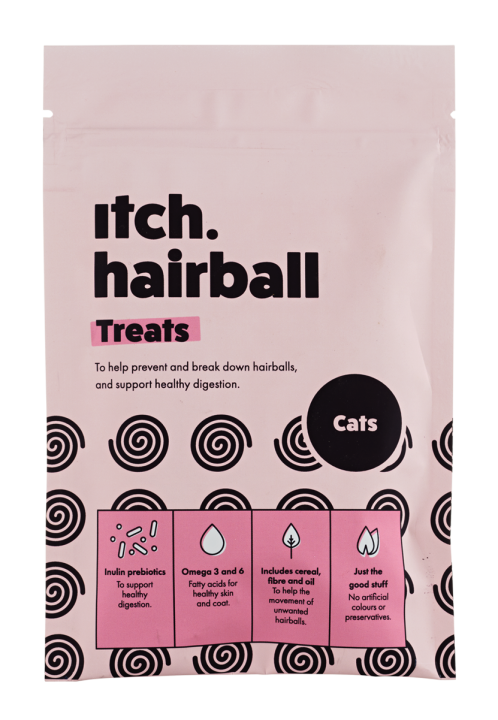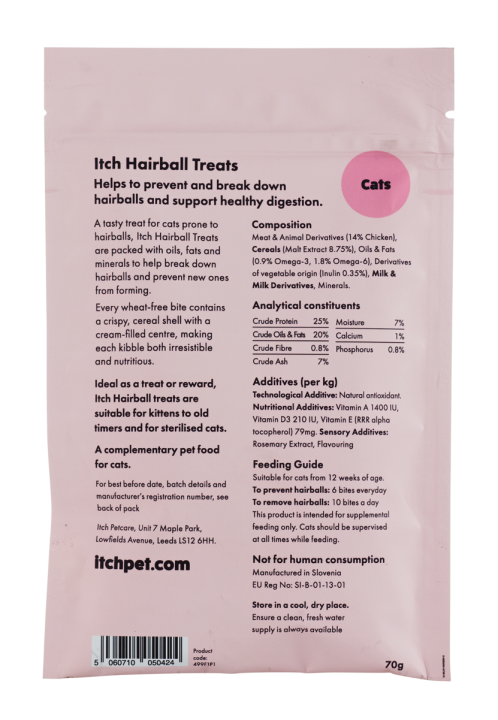 Itch hairball
Treats
A tasty treat for cats prone to hairballs, Itch Hairball are packed with oils, fats and minerals to help break down hairballs and prevent new ones from forming. Every wheat-free bite contains a crispy, cereal shell with a cream-filled centre, making each kibble both irresistible and nutritious. Ideal as a treat or reward, Itch Hairball treats are suitable for kittens to old timers and for sterilised cats.
Well-Being Benefits
Well-Being Benefits
Inulin prebiotics
To support healthy digestion.
Omega 3 and 6 Fatty acids
For healthy skin and coat.
Includes cereal, fibre and oil
To help the movement of unwanted hairballs.
Just the good stuff
No artificial colours, flavours or preservatives.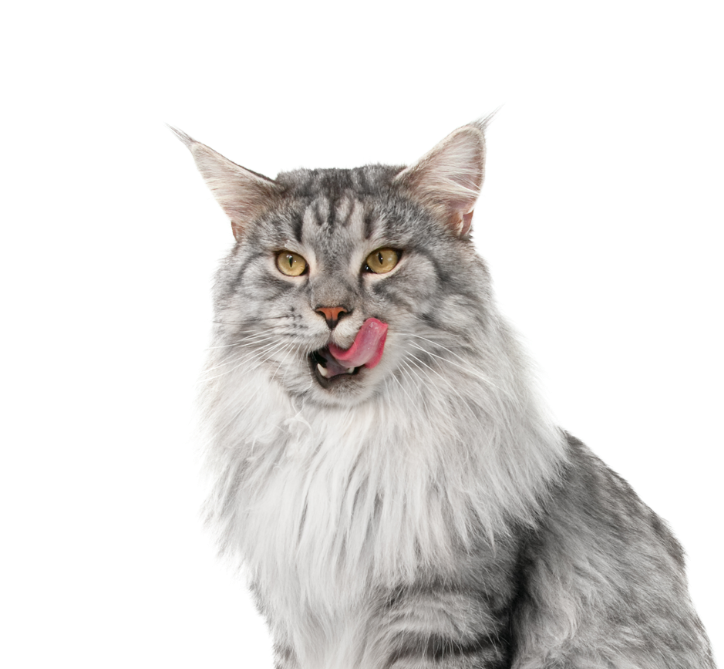 Vet Approved

"Intermittent vomiting in your cat can be a common sign for hairballs. The natural lubricant action of Itch hair ball treats will encourage the natural passage of fur through and out of the digestive system rather than it accumulating in the stomach therefore reducing signs of retching and vomiting."
Zoe Costigan, our in-house vet
BVSc BSc(hons) Cert AVP MRCVS

Composition Meat & Animal Derivatives (14% Chicken), Cereals (Malt Extract 8.75%), Oils & Fats (0.9% Omega-3, 1.8% Omega-6), Derivatives of vegetable origin (Inulin 0.35%), Milk & Milk Derivatives, Minerals.
Nutritional Additives: Vitamin A 1400 IU, Vitamin D3 210 IU, Vitamin E (RRR alpha tocopherol) 79mg. Sensory Additives: Rosemary Extract, Flavouring.